This unique and carefully crafted youth theatre with a youth club feel is the perfect opportunity for SEN young people aged 11+ to be supported in developing their social skills and making friends whilst building their confidence and self-expression through drama and dance/movement.
We are really excited to announce that Make/Sense Theatre are starting their new, weekly Creative Youth Assembly with Reading Rep.
There will be two free trial sessions on Thursday 29th April 2021 in Reading Rep's drama and dance studios, located at Reading College, Kings Road, RG1 4HJ.
The sessions will be taking place from 5.30 -6.30 and 6.45-7.45pm.
To book onto one of these free trial sessions, please complete the form by following the link below.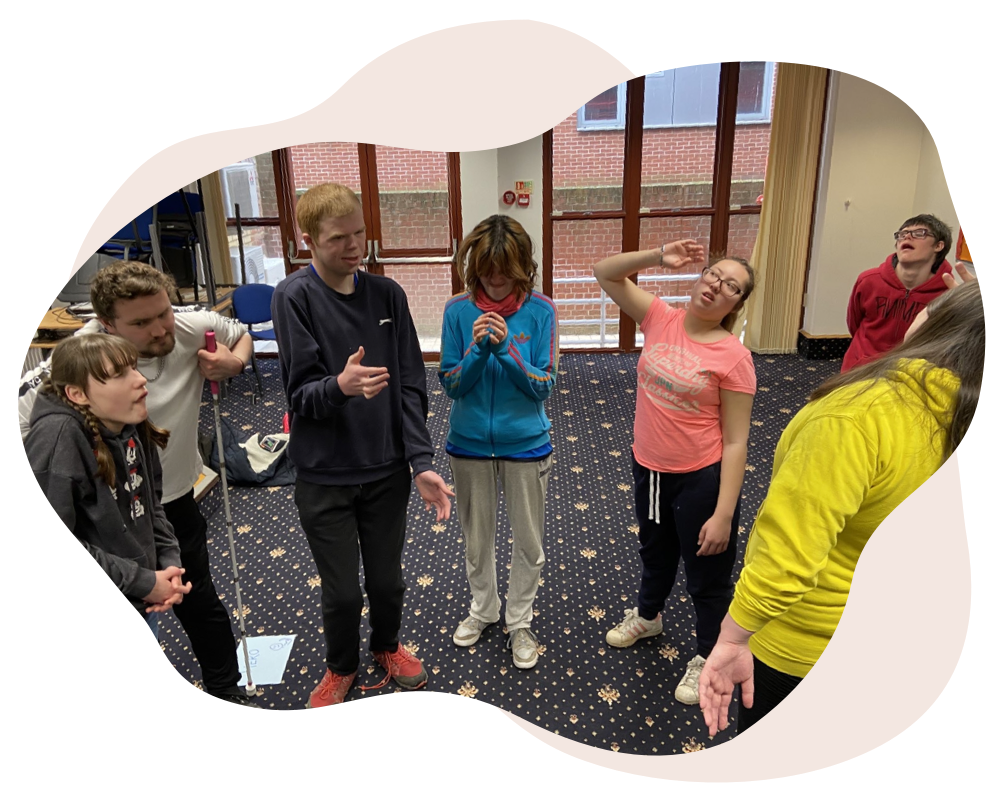 Relaxed Assembly
5.30pm – 6.30pm
This is a gentler, more sensory approach to drama and movement. For young people who may prefer a more relaxed and calm environment in which to explore their enjoyment of creative arts.
Thursdays @Reading Studio of Dramatic Art, Reading College, Kings Road, RG1 4HZ
£8.50 per week, paid half- termly in advance
Gathering and Socialising
We ease young people in to the session with calming and creative activities on hand and a drink and snack so everyone has a chance to arrive and get settled. Young people can have a catch up with the Make/Sense team and their youth theatre friends.
Exploring and Creating
For the next 45 minutes, our founding practitioners facilitate a fun drama and movement session suited to the needs and interests of the group. There will be enough staff on hand to facilitate sensory/calming breaks with young people if this is needed.
Half Assembly
6.15pm – 7.15pm
This is for young people who are keen to make friends, develop their social skills whilst taking part in fun drama and movement workshops, but would prefer not to perform.
Full Assembly
6.15pm – 8.15pm
 This is for young people who may have some experience of drama and/or dance and want to develop these skills and work towards productions. They may also be looking for more opportunities to socialise and make friends in a supportive and fun environment.
Thursdays @Reading Studio of Dramatic Art, Reading College, Kings Road, RG1 4HZ
£8.50 (Half Assembly) and £16 (Full Assembly) per week paid half-termly in advance
Gathering (6.15pm – 6.30pm)
Arriving to activities can sometimes make us feel anxious and people can also be delayed or get stuck in Reading traffic on the way. With this in mind, we ease our participants into the evening. Whilst chatting with friends and the Make/Sense team they can listen to music, or enjoy calming and creative activities and a drink and snack as everyone arrives.
Exploring (6.30pm – 7.15pm)
For 45 minutes, our founding practitioners facilitate fun drama and dance/movement sessions (depending on numbers we might be in two groups). At the end of these sessions, our Half Assembly participants go home.
Socialising (7.15pm – 7.30pm)
Young people who have signed up to the Full Assembly have a short comfort break. They can eat a packed dinner or have a drink and small snack on us whilst catching up with their friends. Staff will be on hand to facilitate conversations between young people to nurture friendships and social skills.
Creating (7.30pm – 8.15pm)
For the final 45 minutes we will come together to work as the Full Assembly on an extended performance project. This will culminate in a show once a year in the main Reading Rep auditorium, with more informal opportunities organised to share work with an invited audience at the end of each term.
Weekend *Online* Assembly
Saturdays 10.45am – 11.45am
Google Meet online
£7 per week, paid half- termly in advance
We appreciate not everyone is able, or feels comfortable just yet to meet in person, so for now, we have a Saturday offering online. If we have a number of people who are keen for Saturdays to continue to take place face to face, then we will be taking names for a waiting list for a September term start for this in person.
Online Assembly will be a drama based session with lots of drama games, improvisation work and the chance to create our own simple pieces of work based on themes.